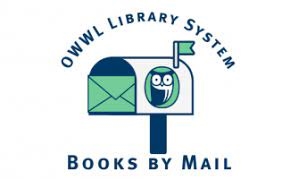 03 Jan

Stuck at home? Sign up for Books By Mail.

Books by Mail is available to any resident of Ontario, Wayne, Wyoming, and Livingston Counties who is unable to access an OWWL Library due to disability, long-term or chronic illness, lack of transportation, or other difficulty.

The following materials can be checked out through Books by Mail:
Large Print Books
Standard Print Books
CD Audio Books
DVDs
Music CDs
Puzzles
Handheld illuminated magnifying glasses
Portable CD players
There is limit of six items per mailing.
Learn more and sign up for this service.
You can also call 585-394-8260 ext. 1119 for information or send an email.