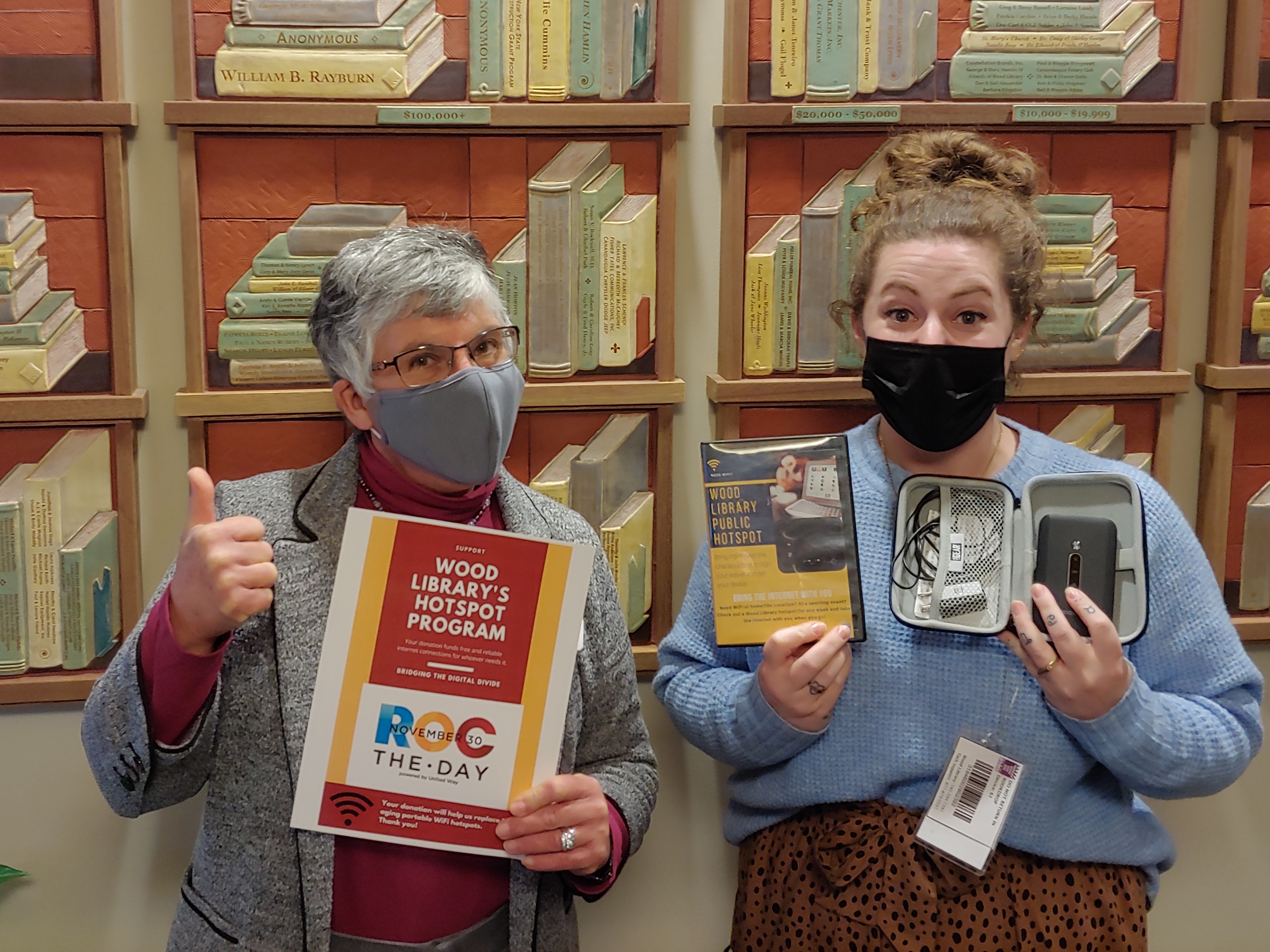 01 Dec

Library supporters ROC it!

Wood Library supporters showed up in spades on ROCtheDay, Tuesday, November 30, 2021.  53 people donated a total of $4,571, which includes a $1,000 match by the Friends of Wood Library.

These gifts will be put to use right away to purchase new portable WiFi hotspots that will be available to library patrons in January 2022.

Wood Library loans portable WiFi hotspots to the public to ensure that everyone in the community has access to information and the digital resources necessary for learning, living, and working in the modern world. Wood Library's hotspot program is an easy, low-cost way to close the digital divide in our community.

The portable WiFi hotspots are typically used by families and library patrons who do not have internet access at home, or who have limited data plans. The lending program gives students, parents, teachers and families working and studying remotely access to a free and reliable internet connection. Some patrons also borrow them when traveling which is especially helpful for those who do not have unlimited data plans.

Currently, Wood Library owns 12 hotspots that can be borrowed for up to one week at a time.   The hotspots can be used with phones, laptops, chrome books, and other personal digital devices.  Multiple devices can be connected at one time, making this an especially attractive option for families.

The library's hotspot program has been in place for 6 years. At first, we loaned hotspots to students at Canandaigua Academy and the Canandaigua Middle School only. Those early hotspots were funded by NYS grant. Later, we secured funding from the Pioneer Library System and individual donors to add to the number of hotspots that were available to students. In 2019, we turned over the hotspots and management of the student-focused hotspot program to the Canandaigua School District. That same year, we applied for and received a grant from the United Way to purchase 10 new hotspots and data plans which were made available to all library patrons.

Wood Library also offers free public internet access in our building, and WiFi access points for free internet access anywhere on library property.  The hotspot program is a great option for people who cannot get to the library easily or spend time working on projects at the library.