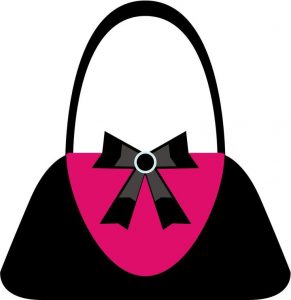 The ever-popular Pursapalooza packs a punch for Wood Library!
November 23, 2020 (Canandaigua, NY) — The pandemic did not dampen enthusiasm for Wood Library's popular purse party.  2020 marked Pursapalooza's fifth year as Wood Library's signature fundraising event.  This year, we took everything online and sold a collection of designer purses – all donated by community members.  The event generated nearly $5,923 for the library's life-enriching services and programs for adults.
Our Champagne ticket holders got exclusive early access to the store along with a bottle of champagne donated by Century Liquor and Wines or Ryan's Wine and Spirits, a glass of Finger Lakes Sparkling Wine by Heron Hill Winery, and chocolates by Sweet Expressions.  Mystery jewelry bags and handbags were also available for sale.
Five new designer purses by Coach, Michael Kors, and Kate Spade were donated by Marilyn Cushman, Alice Haskins, Gail Herman, Kathi Nevin and Laurie Riedman.  Nearly 350 tickets were sold and our five lucky winners were:  Linda Cooney, Jenny Goodemote, Lori Maynard, Shari Reynolds and Jan Stevens
This event was sponsored by:  The Friends of Wood Library, Canandaigua Air Center, Canandaigua Insurance Agency, Peter Blackwood Photography, UR Medicine Thompson Health, The Medicine Shoppe, Arby's, and Sandy Reed.
Donations of gift certificates were made by these generous local businesses:  Canandaigua Auto Wash, Thai By Night, Tune Yoga, Total Knockout Salon & Spa, Flavors Indian Restaurant, Rochester Air Center, Macri's Deli & Cafe, Michelle's Salon & Spa, Family HAIR, Granger Homestead, Cindy Lord Hair, and Icon Salon.
We wish to extend a special thanks to event coordinator and library trustee Kathy Shay and her team of volunteers for their commitment to this event:  Alice Haskins, Gail Herman, Kathi Nevin, Linda O'Shea and Heather Whiting with assistance from Maria Bucci, Jenny Goodemote, and Stephanie Toomey.
Thank you to everyone who supported this event.  We hope to be back to an in-person event in 2021.